Alyx Parker, Past President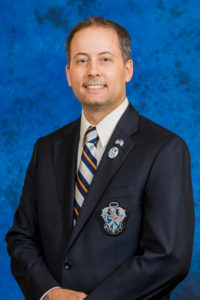 began his service and leadership with Sigma Tau Gamma almost immediately upon initiation in January 1994 at Alpha Chi Chapter (University of Illinois.)  As an undergraduate he held various chapter positions culminating with Chapter President in 1996.  Following his graduation and law school, Parker served in the Alpha Chi House Corporation/Alumni Association. In 2006, Parker became the Chapter Advisor and served in that position until the Summer of 2010. In 2008, he served as Assistant Dean of the Earl A. Webb Academy of Principled Leaders, then as Dean of the Webb Academy in 2009 and 2010. Parker was elected to the Board of Directors as a Director-At-Large at the Grand Chapter in Cleveland in the Summer of 2010. In 2012, he was elected President-Elect. At the 46th Grand Chapter in New Orleans in the Summer of 2014, Parker became the 38th National President of Sigma Tau Gamma. He is a Notable Morris Fellow of the Wilson C. Morris Fellowship of honored Foundation donors.
"The virtues and principles of Sigma Tau Gamma provide direction that should mold our thoughts and acts in how we approach and carry out our lives as men, brothers and citizens. In that regard, I seek to provide opportunities for all brothers to better themselves and assist others in striving to live up to those virtues and principles," said Parker.
Professionally, Parker is a Civil Litigation Attorney.  His volunteer service, in addition to Sigma Tau Gamma is primarily for the Boy Scouts of America. He is especially active Order of the Arrow, a Scouting camp honors society. He enjoys the outdoors, and this summer helped lead a group of Scouts on a 10-day backpacking trek at the Philmont High Adventure Base that is located in the Sangre De Cristo Mountains in Northeast New Mexico. Parker met his wife Heidi during a Sigma Tau Gamma-Delta Zeta event at the University of Illinois. They have three future Delta Zetas: Evie, Zoe, and Jovi. Parker has one brother, who also graduated from the University of Illinois. Parker enjoys meeting and speaking with Sig Tau brothers and encourages any brother to contact him with questions, thoughts, or if they have any interest in volunteering for Sigma Tau Gamma.