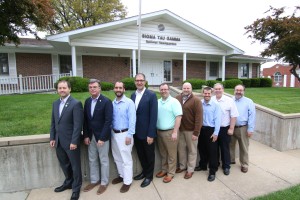 2014-16 Board of Directors
Standing together in front of the Sigma Tau Gamma Marvin Millsap Headquarters in Warrensburg, Missouri in April 2015. Foundation President Tom Janicki is also pictured second from the right.
2016-18 Candidate Application (Candidate Application Form)
Sigma Tau Gamma is searching for five volunteers to serve on the Fraternity's Board of Directors from June 2016 – June 2018. There are five positions on the Board of Directors open for election this June. Four Member-at-Large positions and one President-Elect position.
Strong candidates for a position on the Board of Directors will have an understanding of the 2020 Strategic Plan and the Fraternity's Vision and Purpose. Those applying should possess the ability to enter into a commitment to provide the time, skills, leadership, and financial support to serve on the Board of Directors for the duration of their term. Those candidates with experience and leadership as a higher education professional, business leader, professional practice or tradesmen, or have non-profit institution or organization experience are strongly encouraged to apply.
The Board of Directors sets the strategic vision for the Fraternity to be implemented by the Chief Executive Officer, undergraduate members, and volunteers. Implicit in this philosophy is the importance of sound governance. It is the duty of the Board of Directors to set policy statements, as well as reasonable limitations of the CEO. The Board of Directors is not involved in the day-to-day operations of the Fraternity and does not manage the tactics used to achieve the strategic vision.
To fulfill its responsibilities and to discharge its duty, the Board of Directors follows the procedures and standards that are outlined in the Fraternity's Constitution, Laws, and Policy Manual under the guides of the Policy Governance Model. These guidelines are subject to modification from time to time as the Board of Directors deem appropriate in the best interests of the Fraternity or as required by applicable laws and regulations.
Completed materials should be submitted to Headquarters by Tuesday, March 15, via email to fraternity@sigmataugamma.org. Those seeking a position on the Board of Directors should plan to attend Grand Chapter June 16 – 18, 2016 in Orlando, Florida. Candidate orientation will take place on June 16, so please plan to arrive by the evening of June 15.