Philip Jeanfreau, WCMF, Treasurer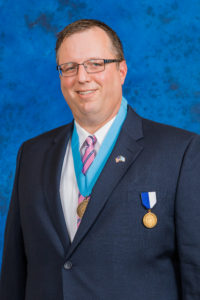 Philip Jeanfreau has served as the IFC Delegate, Associate Member Educator, and Alumni Relations during his undergraduate years at Phi Chapter (Southeastern Louisiana University.) He attended his first national convention in 1996 and tries to attend as many as possible. He has served Phi Chapter as alumni advisor since he graduated in 1999. At the national level he has served as a District Director, Regional Vice President, and provisional chapter mentor in the southern region. He is a Wilson C. Morris Fellow.
"My motivation for giving back is very simple. Sig Tau has given me so much; I met my wife, my best friends, and got to initiate my dad into Sig Tau as an undergrad. I owe it to my future brothers to do what I can, so they can have those same experiences," said Jeanfreau.
Professionally, Jeanfreau works in retail bank management and insurance sales. He enjoys cooking, playing golf, and watching college sports, (especially LSU). He has been riding in the largest Mardi Gras parade, Krewe of Endymion, for the last five years. His wife, Grace, is a ballet teacher and member of Phi Mu Fraternity. The Jeanfreaus are expecting the birth of their first child, Arthur Philip IV, in December.