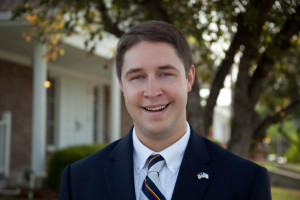 February 5, 2015 – Director of Expansion Derek Kaimann, Beta '09, has announced his departure from the Sigma Tau Gamma Headquarters Staff. He departs the staff to accept a position as an Account Executive with Swank Motion Pictures in St. Louis, MO.
Kaimann joined the Headquarters Staff in 2011 as an Expansion Counselor, and from 2011-2013 co-led recruitment efforts for many of the most successful expansions in the Fraternity's history. During his time as an Expansion Counselor, Kaimann helped lead on-campus recruitment efforts at UNC Charlotte, Florida Tech, Winona State, Purdue, Illinois, Alabama, Auburn, Carnegie Mellon, and Oklahoma State.
In 2013, he succeeded Michael Smoll, Delta '03, as Director of Expansion, and directed expansion efforts at Cincinnati, Arizona State, Northern Arizona, Washington, Washington State, and Kansas State. During his time as a member of the Headquarters Staff, Kaimann has been involved with the recruitment of over 600 undergraduate members, and has been a part of an unprecedented level of success in Sigma Tau Gamma's member recruitment efforts.
Said Kaiman, "I'm really excited about having a new opportunity to grow my skills in an environment that will allow me to be closer to my home and family. My experience as part of the Headquarters Staff has been an incredible experience, and I'm so grateful for all the new friends I've made across the country. I'm very appreciative to Bill Bernier, Iota '71, for believing in me back in 2011, and giving me this opportunity to give back to the Brotherhood. I'm especially grateful to the folks I've had the good fortune of working with and for, especially Michael Smoll, Addison Schopp, Beta '08, Paul Manly, Epsilon Rho '11, and Josh Floyd, Gamma Chi '11, who've taught me so much and given me some truly great memories. I'm so proud to have led some terrific men on expansion, including Jacob Western, Gamma Phi '13, Brian Lewallen, Gamma Phi '13, and Rick Day, Alpha Chi '14. They all worked so hard to continue making our expansion efforts a success, and I know that I'm leaving the program in highly capable hands. I'm also thankful to incoming CEO Steve Latour who has been a terrific mentor and incredibly supportive of my search for new opportunities. Sigma Tau Gamma has such a bright future ahead of it, and I can't wait to see what comes next."
Social Share