Jim Johnston, President – elect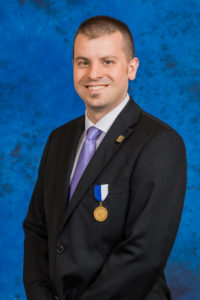 was initiated into the Delta Xi Chapter in 1997 at Carnegie Mellon.  As an undergraduate, he served as Chapter President, Executive Vice President, and Vice President of Finance. As an alumnus, he has served as Three Rivers Regional Vice President, Assistant Dean of the Webb Academy of Principled Leaders, and on the Board of Directors. He also served on the CEO Search Committee and actively contributed to the Wilson C. Morris Fellowship. Johnston was recognized as an Ellsworth C. Dent Man of the Year Finalist in 2001 and received the Winebrenner Medal for Distinguished Fraternity Service in 2007. He is a Celebrated Morris Fellow of the Wilson C. Morris Fellowship of honored Foundation donors.
"I want to give back to an organization that has given so much to me. I would not be where I am today with my career or personal life without my fraternity experiences. I've always been inspired by a simple quote from our past Fraternity and Foundation President, Michael Schermer, which is, 'Just make it better for the next guy,' and I want to bring my experiences back to strengthen and grow our organization," said Johnston.
Professionally, Johnston is a Business Unit Manager for Aerotech Inc., a manufacturer of precision motion and automation equipment headquartered in Pittsburgh, Pennsylvania. He is responsible for growing the business in both revenue and profit each year at a global level.
Johnston has a passion for traveling, experiencing different places and cultures, food, home improvement projects, hiking, biking, kayaking, aviation, museums, amusement parks, reading, and learning new facts.