Jeremy Daus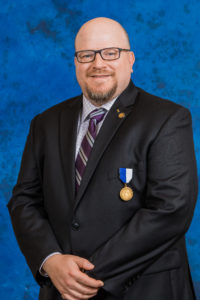 served as Scholarship Chair, Alumni Relations Chair, Social Chair, Safewalk Chair, IFC representative and was twice elected as Executive Vice President as an undergraduate member of the Gamma Nu Chapter (University of Wisconsin-River Falls.) As an alumnus, he served undergraduates as a Chapter Counselor, Alumni Advisor, District Director, Regional Vice President and Vice President of Philanthropy. Through all of his roles, Daus has focused on ways to enhance the undergraduate members' experience. He is a Notable Morris Fellow of the Wilson C. Morris Fellowship of honored Foundation donors.
"As a Board member, my focus will be on our organization's long-term sustainability and its ability to positively affect our members' lives. Our Fraternity's success today, rests upon the shoulders of the men who've brought us to this point. As a Director, I believe I have the skills, the background and professional experience to be of benefit to Sigma Tau Gamma and build upon their work. By working together with other Board members and our new CEO in a positive and collaborative way, we can take the next step for the organization and set the stage for even greater organizational success," said Daus.
Professionally, Daus is the Product and Portfolio Manager at Capella University's School of Social and Behavioral Science. Daus works side-by-side with academic leaders to ensure they have the necessary support to deliver programs to university students responsibly. In addition to serving the Fraternity, Daus has volunteered with Habitat for Humanity and ridden in the MS150 to benefit the Multiple Sclerosis society.
Daus is proud of his home state and his roots in Wisconsin. He currently lives in Minneapolis, Minnesota with his girlfriend, Andrea, and their black Labrador retriever, Nala. He is an outdoorsman who enjoys kayaking, skiing, hunting, canoeing and camping. He is also a sports fan, Minnesota Wild season ticket holder, and Green Bay Packers and Wisconsin Badgers fan. As an avid photographer, Daus has done exhibitions to display and sell his work in both Minnesota and Wisconsin.